An interesting invitation has intermingled with our knit and crochet community via Ravelry banning anything Pro-Trump earlier this week.
I'm gonna start out by saying that in my quest for spiritual expansion and more inner peace, I've totally withdrawn myself from all things politics over the past few years. I'm strongly of the belief that the most impactful thing we can do for each other and the planet is to be 100% present in our own lives. So I've been on a quest to focus on what presents itself in my daily life and have largely withdrawn from media.
This week the politics found me in my cozy little crafting corner, though.
If you haven't already, you can check out Ravelry's policy change and announcement from earlier this week here.
I've received multiple emails from knitters and crocheters who are fired up by Ravelry's announcement asking what my plan is to respond to the situation.
My plan, you ask?
I'm going to look at this situation as an invitation.
I believe the universe serves us up with any situation we need to further deepen our spiritual journey and consciousness.
By taking a firm stance on something they believe in, whether we share the stance or not, Ravelry has extended us all an invitation.
What is this invitation?
If you're a knit or crochet designer….
It's totally ok to be wickedly pissed off that Ravelry has put every shop owner at risk without considering the community aspect of their platform. Personally, though, I think this situation has the chance of going either way. Yes, there's the chance that many users will discontinue shopping through Ravelry which could impact our personal incomes. In my opinion, there's an equal chance that there could be more traffic than ever from people who passionately agree with Ravelry's stance and want to shop through a platform they identify with.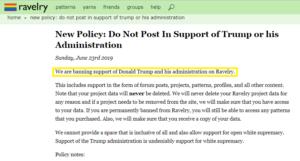 The invitation for us designers here is to recognize this as another opportunity to continue putting forth energy into our own platforms that we're equally passionate about.
Ravelry has been our industry leader for a long, long time…and we've let it be that way. How can we cultivate our own communities and environments that we can count on despite the inevitable tidal waves of business?
If you're a Republican….
I don't think I need to point out all the reasons you're mad or feeling excluded. Especially since this is a new policy, it no doubt comes as a surprise and a bit of a slap to all of the Republican Ravelry users. Especially since politics in general could have been banned instead of one specific politician.
The invitation here is to admire another human doing their human thing.
Casey, of Ravelry, took a huge chance in standing for something he believes in on his platform. It may be offensive, and it may not be the same thing you agree with….but….Gosh darn it's intriguing and inspiring to watch someone put everything they've cultivated over YEARS on the line to stand for something they believe might make a world impact.
Agree with his stance or not….I'm of the opinion that the world could use more of this revolutionary leadership energy.
As for me?
I'm going to choose to marvel at the beauty of all humans and the amazing impact that can be made even from within our little fiber arts community.
Democrat or Republican, it's amazing to hear so many connected fiber artist's voices speak out for what they think is right in this situation. Let's all celebrate the voice that so many generations before us weren't allowed to share and express…..even if that voice isn't in agreement with our own.
If you're in continued support of Ravelry, you'll continue to find my patterns listed there here.
If you'd rather take your business elsewhere, my Etsy shop is where my business got started, and it's still going strong. You'll find my patterns listed there here.
Peace and love to all. May we all receive joy and abundance.
Comment and tell me….
Can you find an invitation in this situation? If so, what is it? Please share your voice.